Ferozepur News
Pak based Foundation Chairman prays for welfare of Hind-Pak daughters by offering 'chadar' at Dulla Bhatti Mazar
Pak based Foundation Chairman prays for welfare of Hind-Pak daughters by offering 'chadar' at Dulla Bhatti Mazar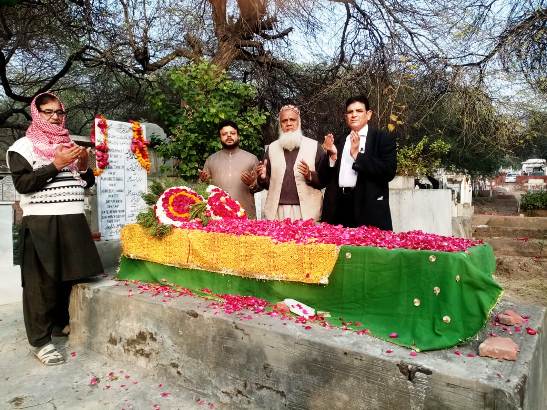 Ferozepur/Lahore, January 13, 2021:  Remembering 'Dulla Bhatti, Pakistan based Shaheed Bhagat Singh Memorial Foundation, Chairman, Imtiaz Rashid Qureshi  along with Syed Shamshad Hussain, prayed for the welfare of daughters of India and Pakistan, by offering 'Chadar' and flowers, at his mazaar in Lahore.
Dulla Bhatti – popularly referred to as the "Son of Punjab" or "Robin Hood of Punjab", was  a folk hero who supposedly came from the Punjab region of medieval India and led a revolt against Mughal rule during the reign of the Mughal emperor Akbar.  In Punjabi folk tradition, Dulla Bhatti's role in rescuing innocent girls from the clutches of lecherous men is enshrined in folk poetry that is sung during the winter festival of Lohri. The chieftain is believed to have rescued two Brahmin girls, Sundri and Mundri, from Akbar, who wanted them in his harem.
Qureshi said, every year we visit the shrine of Dulla Bhatti and remember him on Lohri celebrations who was a hero not only of Pakistan but also of India.  Expressing concern over the status of women in the present era, he said the daughters of both the countries are passing through like Mughal rule and remembering the hero like Dulla Bhatti.
He said, it is very unfortunate that the people residing around the Dulla Bhatti memorial are not aware about his historical significance whereas he is remembered on Lohri celebrations not only in Punjab of India but also other states like HP, J&K., Rajasthan and Delhi.
Expressing his concern over the dilapidated condition of the shrine as there is nothing remarkable a about the grave of Dulla Bhatti, situated in the historical grave yard of Miani Saib in Lahore, on a raised platform, plastered with cement under the shade of an old tree, Qureshi made an appeal to Pakistan government to take care of it besides asking both the countries to make part of syllabus of the history of Dulla Bhatti, in the education system.