Ferozepur News
MLA Pinki flagged off tractors rally for Delhi from Martyrs' Memorial Hussainiwala
Farmers Protest to withdraw 3-Farm Laws - Congess supports for Jan 26 Tractor Rally
Farmers Protest to withdraw 3-Farm Laws
MLA Pinki flagged off tractors rally for Delhi from Martyrs' Memorial Hussainiwala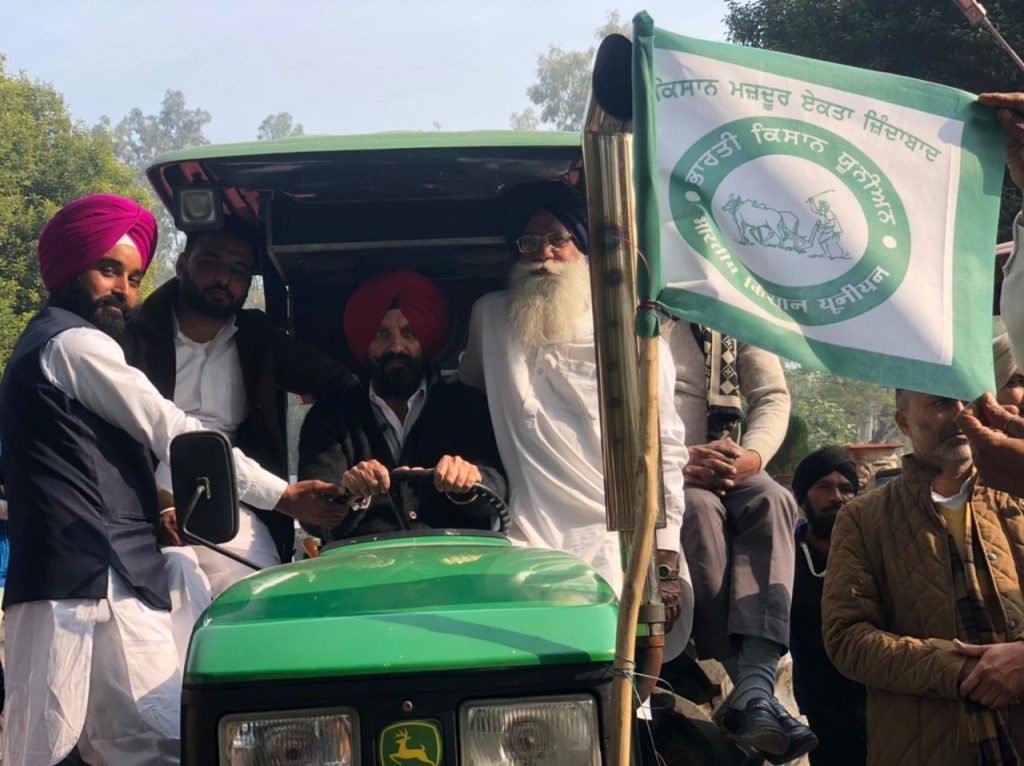 Ferozepur, January 22, 2021: Tractor Rally from Ferozepur to join the call by the farmer's outfits against the 3-Farm Laws, for January 26 Tractor Parade, was flagged off by Parminder Singh Pinki, Congress MLA from Hussainiwala, by himself driving the tractor, after paying floral tributes at the National Martyrs Memorial to Shaheed Bhagat Singh, Rajguru and Sukhdev.
Added here, the farmers' protest at Delhi – Singhu and Tikri borders had entered 59th day today, against the rollback of 3-Farm Laws as no proposal of holding it for a certain period and forming of a committee to review it is acceptable to them. All rounds of talks across the table between the farmer and government had been inconclusive.
As per the information, around 500 tractors with 5,000 farmers are leaving for Delhi to join the Tractor Parade on January 26, from Ferozepur district organized by three farmers organizations – Krantikari Kisan Union from Gurudwara Jamni Sahib Bazidpur, Bhartiya Kisan Union Dakoda led by Hrnek Singh Mehma from Octroi Post No.7 and farmers attached with Kisan Union Sidhpur led by Fateh Singh from different villages. According to Avar Singh Mehma, Press Secretary, KKU, around 200 tractors with 2,000 farmers are leaving for Delhi from Bazidpur only. The tractor march will reach Delhi on Saturday morning – January 24 with a night stay at Sirhind.
Pinki said, he is the son of a farmer before MLA and stands with the farmers against the three black anti-farmer laws. He said, the martyrs had given their sacrifice for the freedom of the country against the British government and now the Modi government, to give benefit to the corporate houses, have introduced the black laws against the farmers to make them slaves before the capitalists.
Giving a warning to the Modi government, he said, we demand from the land of martyrs, from the central government to withdraw the 3-Farm Laws and Power Reforms Act immediately, which are against the interests of the farmers. It is not a question of crops but it is a subject of our coming generations, Pinki added.
He said, it is very unfortunate on the part of the central government that the farmers had to protest even during the chilly weather conditions against the black laws, which has no impact so far on it.
The farmer leaders said, today the thousands of farmers on tractors are leaving for Delhi on tractors to participate in the Tractor Parade on January 26. However, some of the farmers are also going by train to Delhi to participate in the protest.