Ferozepur News
KMSC condemns statement of MD, Executive Board IMF Kristalina Georgieva in favour of Modi
KMSC condemns statement of MD, Executive Board IMF Kristalina Georgieva in favour of Modi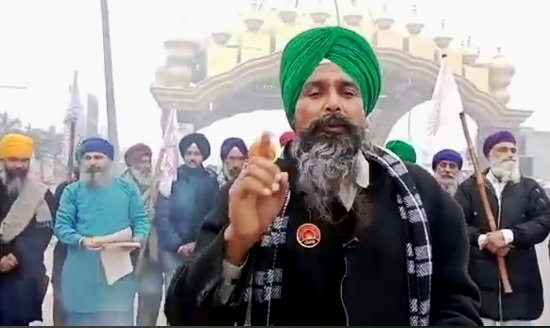 Ferozepur, January 16, 2021: The statement of MD, Executive Board IMF Kristalina Georgieva in favour of Modi government was condemned today by Sarwan Singh Pandher, State Secretary, Kisan Mazdoor Sangharsh Committee – KMSC and protested at Golden Gate Amritsar by burning her effigy.
All round talks have failed to come to any conclusion over the withdrawal of 3-Farm Laws.  Both are adamant on their stands – farmers on withdrawal of laws and government ready for any amendment.  Now the next round of talks has been fixed for January 19 and the Centre wants farmer unions to be more flexible to sort out the issue.
According to Pandher through his recorded video said, Kristalina has stated that the policies of Modi government are the best ones and may be continued and with these reformed laws, the rural sector people will get business. Now the IMF has come to that position of Modi government is not fine, this statement has been given to support him.   He said, around 70 percent of farmers who are dependent on the agriculture sector is being handed over to the corporate houses by introducing the new Farm Laws.
Pandher said, our protests will continue peacefully till such time the 3-Farm laws are not withdrawn. Farmers and supporters in thousands will join the Tractor March on January 26 to give a message to the Central government to roll back the black laws.