Ferozepur News
AIDSO to hold motorcycle rally from Hussainiwala Martyrs Memorial to Delhi on Jan. 15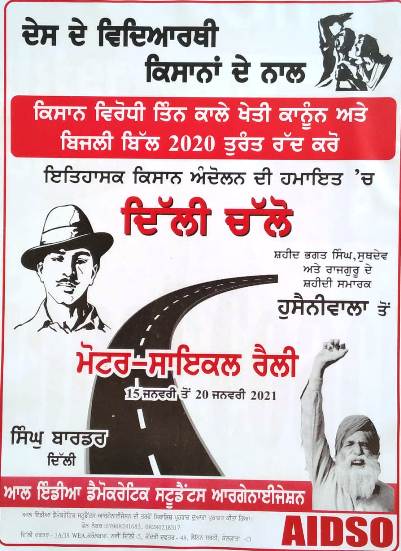 AIDSO to hold motorcycle rally from Hussainiwala Martyrs Memorial to Delhi on Jan. 15
Ferozepur, January 13, 2021: Now, All India Democratic Students Organization – ADSO with a motto of Struggle-Unity-Progress have given a call for motorcycle rally from January 15 to reach at Singu and Tikri Borders near Delhi.
Despite directive by the Supreme Court to hold the implementation of 3-Farm Laws by forming a Committee to review its provisions, the protests by farmers and various supporting organizations continued by burning the copies of Farm Laws on the Lohri celebrations.  Even the Punjab Sate Agri Cooperative Societies Karmchari Union and All India Sikh Students Federation have come forward to support the farmers.
Around 70 farmers have sacrificed their lives during this protest including suicides in support of farmers and thousands of farmers are marching towards Delhi irrespective of age, on foot, bikes, tractors to join the protesters at Delhi borders who have given a call for Tractor March on January 26.
Giving this information, Shibasish Praharaj, Office Secretary, AIDSO, All India Committee said, we will be visiting Hussainiwala National Memorial on January 15 and after playing floral tributes will move to Delhi via Fardkot, Jaitu, Budhlada, Bathinda, Mansa, Patiala, Sunam, Nabha,  Rohtak, Kaithal, Jind and join the protesting farmers at Singhu and Tikri Borders at Delhi on January 19.
He said the Union government led by BJP is making policies in favour of the corporate houses and capitalists and heading towards privatization of all sectors.  Recently, the new education policy 2020 has been introduced, four labour code have been introduced by abolishing the 44 labour rights.  These three Farm Laws will also make the farmers bonded labourer in the hands of big houses. All this will lead to unemployment in the country, adding he said, it is the right time to struggle, unite and progress.
He made an appeal to all the students and intellectuals to come forward in support of farmers by joining in the historic critical situation.