Ferozepur News
AIDSO organizes Bike Rally starting from Hussainiwala to Singhu and Tikri Borders
AIDSO organizes Bike Rally starting from Hussainiwala to Singhu and Tikri Borders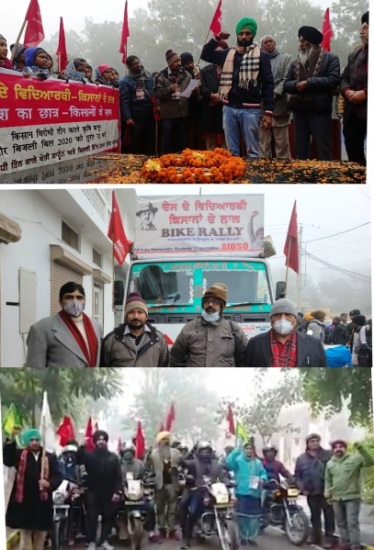 Ferozepur, January 15, 2021:  All India Democratic Students Organization – AIDSO with a motto of Struggle-Unity-Progress, to extend support to the protesting farmers started Bike Rally from Hussainiwala to Singhu and Tikri Borders today morning
The participants are mostly medial students from 12 States, who reached Ferozepur on Jan. 14 evening.  They were welcomed by IMA representatives – Dr.R.L.Taneja and Dr.Harsh Bhola, who advised them to maintain Covid-19 protocols during the rally by using masks, maintaining physical distance and using sanitizers frequently.
In the morning,  the students paid  floral tributes at Shaheed Bhagat Singh Martyrs Memorial  with slogan – E Bhagat Singh Tun Zinda, Har Ek Lahoo Ke Katre Mein – Inqlab Ke Nare Mein.   Later the, Bike Rally left for Delhi borders  via Fardkot, Jaitu, Budhlada, Bathinda, Mansa, Patiala, Sunam, Nabha,  Rohtak, Kaithal, Jind to join the protesting farmers at Singhu and Tikri Borders at Delhi on January 19, Shibasish Praharaj, Office Secretary, AIDSO, All India Committee.
He said the students of the country are with the farmers adding that the Union government led by BJP is making policies in favour of the corporate houses and capitalists and heading towards privatization of all sectors.  Recently, the new education policy 2020 has been introduced, four labour code have been introduced by abolishing the 44 labour rights.  These three Farm Laws will also make the farmers bonded labourer in the hands of big houses. All this will lead to unemployment in the country, adding he said, it is the right time to struggle, unite and progress.