News
7-days NSS Camp concludes at Dev Samaj College for Women in Ferozepur
Cycle Rally on concluding day
7-days NSS Camp concludes at Dev Samaj College for Women in Ferozepur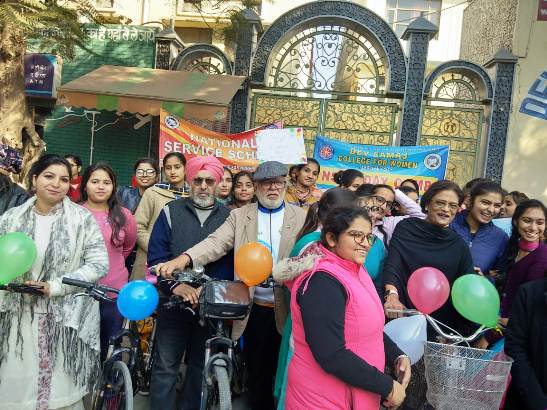 Ferozepur, January 3, 2020:  With the message of cleanliness and selfless social service, a seven-day special National Service Scheme – NSS – Camp concluded today at Dev Samaj College for Women.
During the weeklong camp, the activities held among others were to spread awareness about pluses and minuses of social evils – drug addiction, illiteracy, gender bias, personal hygiene, personality development and up-gradation of environment.  The key-note speaker was Prof.(Retd.) A.K.Sethi.
On a concluding day,  a Cycle Rally by the volunteers of NSS Camp, led by Sohan Singh Sodhi and Harish Monga from Hussainiwala Riders Ferozepur,  was organized covering the circular road of the city.  At the end, an oath was also administered to the students by the cyclists to attend the college at least once a week on cycle, to start with.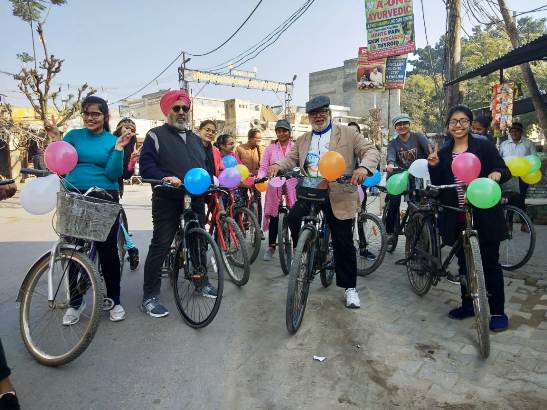 Vincent Hughe Chief Guest on a concluding day was also welcomed.  In his address, he said, there is great enthusiasm among the student of Dev Samaj College, Ferozepur than their counterparts in Delhi.   Appreciating the NSS volunteers, he especially lauded their leadership quality.
Presiding over the valedictory function, Madhu Prashar, Secretary, Dev Samaj said the major objective of the NSS was to inculcate the noble human and social values among the students so that a healthy society could be created. She appreciated the various activities undertaken during the week-long, saying that these actions play a very important role in the overall personality development of the students.
She said the qualities developed through these camps among the students would definitely prove helpful in their life to own various responsibilities in their lives.  The campers were congratulated for the successful completion of the camp and urged them to engage themselves regularly in social services.
Presenting the camp report, officiating Principal Navdeep Kaur, Camp Organizers Dr.Sangeeta Arora said, the campers had undertaken various jobs with a motive to develop the dignity of labour among them. During the motivational lectures, discussions were also held to develop a better understanding face of different problems of life.
Conveying her thanks to all directly or indirectly involved in making the NSS camp a grand success, especially the volunteers who had shown complete discipline throughout the camp, Sapna  Budhwar, Programme Officer said, this camp experience will be an eye-opener and turning-point for certain volunteers to always do better in life.
NSS Best Volunteer Awards were presented to Ajaypal, Sharvi, Sukhmani, Dhruvi, Komalpreet. Gurpreet, Sonali and Swadha.