Ferozepur News
44 Kashmir Shawl vendors express gratitude to Govt for arranging special bus to Valley
44 Kashmir Shawl vendors express gratitude to Govt for arranging special bus to Valley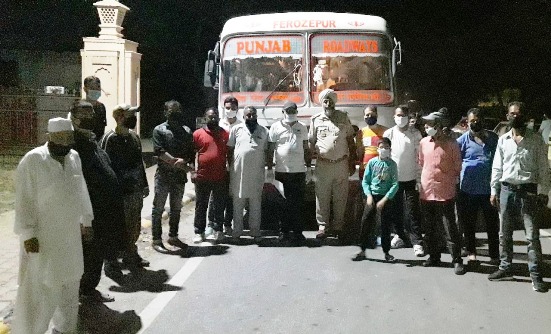 Ferozepur, April 27, 2020: Leaving an emotional parting note before embarking on a journey to their homeland, 44 Kashmiri Shawl vendors on Sunday night expressed their gratitude to the Punjab government while getting on the special bus arranged by the district administration Ferozepur for their safe passage to the valley.
Divulging the details, Deputy Commissioner Ferozepur  Kulwant Singh said that a few families of Kashmiri Shawl vendors were stuck in Ferozepur and wishing to return to their homes adding he said that the special bus was arranged to drop them at their home place safely. The DC further added that the state government was not only committed to serving its residents stranded in other states but also taking good care of people of other states stranded here. Kulwant Singh said that earlier too food packets, dry ration packets, and other basic amenities were provided to these people.
Expressing his complete satisfaction with the efforts of district administration, one of the passengers Farooq said that every year during the winters a group of Kashmiri Shawl vendors comes to Ferozepur and stays here throughout the season but this time they got stuck here due to imposition of nation-wide lockdown. Farooq said that they requested DC Ferozepur Kulwant Singh for making arrangements for their return, who arranged for a safe passage to the valley.  Now, the whole group was happy as they were going to be united with their families back in the valley, added Farooq.
Another passenger Abdul Gaffar said that he was grateful to the Punjab government who took good care of them just like its residents. The special bus arranged by the Punjab government was taking them to Jammu and Kashmir adding he said that earlier too the district administration has been providing them with ration, food packets, and other daily needs at their accommodations.
Sub Divisional Magistrate Amit Gupta and Nayab Tehsildar Sukhcharan Singh Channi personally arranged the safe departure of the Kashmiri residents and ensure the maximum help to those stranded folk.