Ferozepur News
24,000 ltrs 'lahan, 250 illicit liquor bottles recovered and destroyed to avoid its misuse
Joint operation of Excise and CIA
Joint operation of Excise and CIA
24,000 ltrs 'lahan, 250 illicit liquor bottles recovered and destroyed to avoid its misuse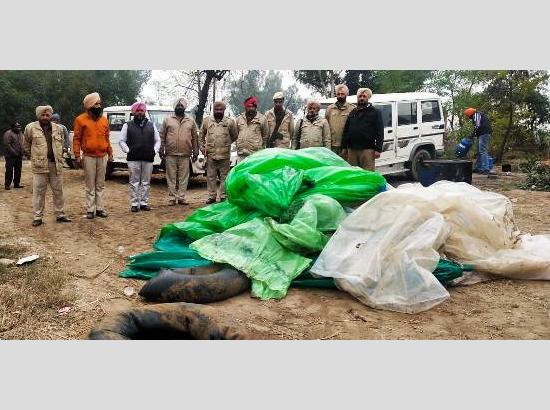 Ferozepur, January 4, 2021: In a joint operation today by Excise and CIA teams, a raid was conducted in the enclaves of river Sutlej in the surroundings of village Kilche and approximately 24,000 ltrs of 'lahan' was recovered.
During the raid, 24 tarpaulins and 2 tubes containing around 250 bottles of illicit liquor and one iron during the raid were also recovered and taken into custody.
The recovered 'lahan' and liquor was destroyed on the spot to avoid its misuse. Meanwhile, a case has been handed over to the police for further investigation by registering a case.
Since there had been a major incident of death of more than 100 persons in Amritsar and Tarn Taran areas on the consumption of spurious liquor, the conducting of raids against unscrupulous persons involved in this illegal profession, will be a regular feature, said Excise official.