Ferozepur News
 2-days' event TEISCON-2021 held for students to get exposure and upgrade skills
Event held at DCM Group of Schools
Event held at DCM Group of Schools
2-days' event TEISCON-2021 held for students to get exposure and upgrade skills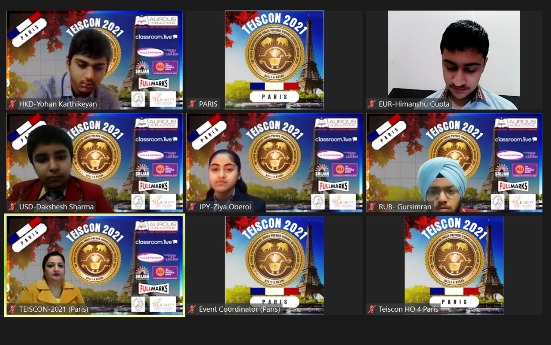 Ferozepur, January 11, 2021: In a first of its kind initiative in the K-12 segment in India, DCM Group of schools carved a new benchmark and a new pathway in developing a successful entrepreneur mindset for students across the country.
The Young Entrepreneur Indian Premier Schools Business Conclave 2021 (TEISCON 2021), a two-day event organised by the DCM Group of Schools, witnessed an amazing start on the 9th January 2021. The inauguration of TEISCON 2021 was launched by Lt. General Kamal Davar. Lt. General Davar, an Army veteran icon presented the "need of the hour for student centric-start up culture as the way forward for progressive education across India". He congratulated DCM group to be the visionary pioneer to innate and actualise such a grand event for schools across India.
CEO of DCM Group of Schools, Mr. Anirudh Gupta, in his address pointed out the imperative importance of 21st Century Skills, and further elaborated that the "students should be provided with an education that is in sync with the industry standards". TEISCON 2021 being his vision for a self-reliant and globally vibrant India, had been conceptualised by his visionary and future-ready thinking.
TEISCON 2021 has been an initiative by the DCM Group to equip students with the ideal exposure required in the field of startups and entrepreneurship and to provide them a platform where they can hone their business acumen and taste the strength of their counterparts through a series of events.
Events such as: "Shark Tank Startup Plan", which created an amazing competitive atmosphere where students presented their start-up projects and pitched their innovative ideas to have a sustainable product that is future-ready.
"Bulls vs. Bears" Debate showcased the power of believing in a certain concept and passionately driving it home with a strong and persuasive pitch. There was a credible level of knowledge confluence.
"Make in India" Campaign supported the concept and vision to create products and innovations that are completely using resources within our country. The vision that the students presented was amazing and pragmatic in supporting the country and launching India as the next start-up hub of the world.
The presence of prominent members from the business industry made the event a happening one.
Amongst the keynote speakers we had GC Sharma, Head Financial Education, National Stock Exchange along with NSE's Chief Manager Abhishek Dave; Senior Vice President of IDFC Mutual Fund, Rajesh Soni; Senior Vice President, Client Relations, IIFL Private Wealth, Ashim Sibal.
The jury panel comprised Rozy Jain, Keshav Shikharpuriya, Rishab Aggarwal, Trivender Kaur, Bahadur Singh, Ishan Singla along with other top notch industry players.
Assistant CEO of DCM Group, Dr. Gopan Gopalakrishnan, informed that various school and industry leaders along with established entrepreneurs will share their thoughts on both the days. He also said that the platform of TEISCON 2021 will enable the students
to showcase their potential in startups and entrepreneurship, which will be in sync with Central Government's initiatives of Make in India and Atma Nirbhar Bharat.
The closing ceremony on day two of the event was conducted by Mr. Karandeep Singh, Assistant CEO for projects and Planning at DCM group of schools. He stated that this event is "the first of its kind in the country" and the "DCM Group looks forward to making this event an annual event so that students regularly get a platform and an opportunity to get the required exposure of the industry and upgrade their skills".
The closing speech was delivered by Brigadier Mathur, Director of administration at DCM group of schools. He pointed out at the "magnitude and reach of this event and emphasized on the platform that was given to so many students from across the country to connect, explore, analyse and understand the depth of Business success in the coming future".
Ms. Richa, the primary convenor of the event concluded that there would be a second edition of the Business conclave, where not only Indian schools will participate, but also schools from across the world would join hands to make TEISCON a global benchmark for young entrepreneurs.
The massive take-away from the event has created a positive ripple effect in the K-12 industry, with schools pan India wanting to join-in for the next edition. DCM Group has shown the way to create student-centric and future-ready projects that give: innovation, creativity, logic and critical thinking it's much needed space in the education pedagogy of success, said Convenor of the Event.